How to use MOLLE/PALS system?
We are back after a short summer break and we continue with the promised second part of our article about MOLLE/PALS system. In the first part we presented the MOLLE system, which is used for modular fastening and exchange of pouches on backpacks, vests and other equipment. We also pointed out what to be careful about when choosing your gear and presented the differences between classic and laser cut MOLLE. Today, we get to the point: how do you even use MOLLE?
All the MOLLE/PALS gear in our offer can be divided into these categories:
How to use MOLLE/PALS system on your gear?
Why are we even buying military backpacks and other platforms with the MOLLE, except for the 'cool factor'? MOLLE is indispensable on all tactical vests: both chest rigs (magazines and other equipment is low under the chest and only in front) and plate carriers (consist of two platforms, one is worn on the chest and one on the back). With such vests, the user purchases magazine pouches, a radio pouch, IFAK etc. and secure them with MOLLE to the platform. Since the entire surface is suitable for mounting, the user chooses where the pouches will be mounted.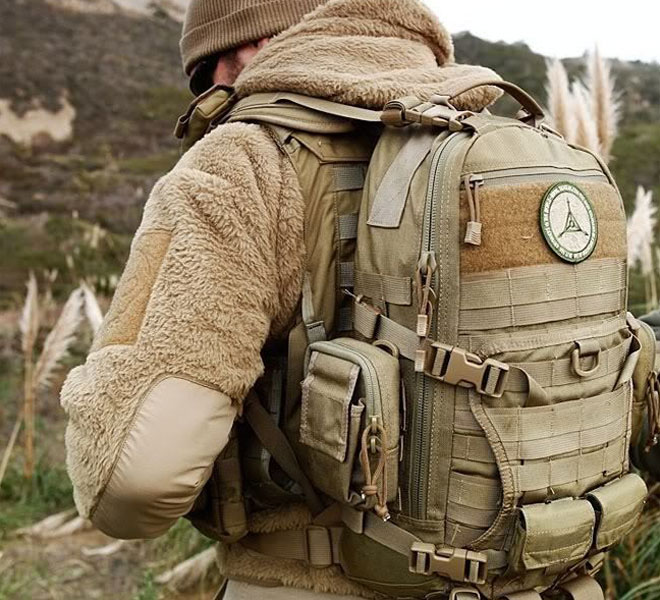 MOLLE can also be found practically on any military backpack or bag, whether it's a small combat backpack, a large transport or patrol one, smaller range bags or larger transport/deployment ones. Since most of military backpacks already have internal organizers and admin panels, MOLLE is more optional. We can use it to have certain items close at hand (either sunglasses, or snus and cigarettes), or when we really run out of space in the backpack itself.
The basic idea of MOLLE is always the same: pouches or gear are directly attached to the base platform with one, two or more MOLLE straps that are in the back. The straps are then interwoven between the ones on MOLLE platform. These straps can be finished in different ways and there are many debates on which is the best. Here, each user should judge what is best for him, we have tried everything, and so far, haven't had any problems with any of them. The important thing is we weave 1-1, once bellow and once above, so the pouch stands nicely and tightly on the platform (check the picture bellow).
MOLLE straps can be finished:
with a rigid strap (this is the most common solution) which is inserted back into the MOLLE slit. Looks primitive, but it works 100%. Examples: (new) Helikon-Tex, Direct Action, Husar etc. Finishing touches may be different, but the basic idea is always the same. Most commonly the rigid strap is made of nylon (same material as with classic MOLLE), e.g., Helikon-Tex. Alternatively it can be made of Cordura (e.g., Direct Action). Last option is 100% Hypalon (or similar), which is an ultralight solution, but stretches more with use (e.g., Templar`s Gear);
with a metal snap fastener which fixates the strap. Good thing about it is its reliability but the bad one we have one extra component which can be broken. Example: Tasmanian Tiger etc.;
without anything. In this case the MOLLE strap is just a strap but closes with a triglide plastic strap attached on the pouch. This system is less reliable so it probably won't be used anymore (Templar`s Gear).
To sum up: the main advantage of the MOLLE is its modularity and interchangeability. Instead of putting your basic equipment (let's say first aid) into different backpacks, we mount the same med pouch to different platforms: backpack, tactical vest, range bag, belt … And that's the main charm of the MOLLE system.
How should you adjust your gear with MOLLE?
We are finishing this article with some practical tips on how to adjust your gear. Have in mind we are trying to show the advantages of military gear to people who don't know them yet, so we won't get into 'operator' details but rather focus on everyday use.
Firstly, we should choose a platform that we will use for a specific task: should it be a tactical vest for shooting, airsoft, etc., a bag or a backpack for anything else: everyday use (so-called EDC equipment), hiking, outdoor use and bushcraft, climbing, etc. Most of the military backpacks and bags are already equipped at least partly with the MOLLE system, as this has become a standard.
MOLLE is usually found on all sides and over the entire length so it allows attaching side bags, which give us a lot of extra space. We can use it wisely for accessories and EDC gear we do not otherwise fit into the backpack. When MOLLE is just at the bottom on the sides of the backpack, it is intended to attach a water bottle pouch. The front of the backpack is intended to attach additional utility pouches.
Most of the stores and producers categorizes the pouches into the following categories:
Magazine pouches: made for carrying different magazines. Here we can also find drop pouches for empty mags. Even if you aren't interested in small arms, you can find some great use of them. Closed tactical reload pouches are ideal for headlamps or hand torches etc., and drop pouch is ideal solution for carrying wet gear and clothing, trash etc. We can also use it to quickly put down our camera when we need empty hands.
Medical pouches (IFAKs): we've all used a medical pouch in our life, be it automotive, hiking or tactical. The main difference between them all is that military IFAKs are made of two parts: lower one stays fixed on the platform and the upper one can be quickly removed to be used or give away. This also gives us on opportunity to have more than one lower platform and just change the inner pouch with contents.
Utility pouches (multi-purpose pouches): pouches for every use and time. Some have inner organizers or elastic straps and some are just empty containers. We use them to carry paracord, headlamp, energy bar etc., so anything that doesn't need extra organization.
Specialty pouches: radio pouches, pouches for GPS navigation, hydration bladders, shooting googles etc. In Perunika store these pouches are in the category of 'utility pouches'.
Admin pouches: are a novelty in tactical gear. They are based on utility pouches but designed for organizing administrative tools. They are made for 'field administration' as the name tells us. Made in different sizes and they open like a book in most cases.
Although we emphasize the modularity of the MOLLE and the exchangeability of pouches, we should however remind you that it takes some time to correctly mount a pouch on the platform. If you need a quick swapping, e.g., a water bag from one vest or backpack to another, it's better to use the ITW Nexus QASM clip that fastens it directly to a piece of equipment and allows you to quickly exchange equipment. Sometimes even a carabiner or D-ring does the job.
Secondly, your basic guide when mounting MOLLE pouches to a platform should be 'minimum ballast'. If possible, organize the equipment inside of a backpack, and the outside should remain for the most necessary gear: first aid, hydration, etc. If the entire front of the backpack is packed with pouches, the backpack will be more difficult to carry because of the wrong weight distribution, while at the same time, you risk tearing the pouches of the backpack when pulling it from the fully loaded trunk of your car. These concerns have given birth to a modern generation of backpacks that have MOLLE system on the inside.
And the last but not least: don't be limited by the pouches themselves! Use of MOLLE should be limited with your imagination. The MOLLE straps or laser slits on laser cut platform are ideal for clamping various carabiners, as they, in contrast to D-rings and similar, fix them. Different D-ring carabiners, such as the ITW Nexus Grimlock, also ideally fit into the notches. We can install the antenna radio through them, twine some paracord string etc. Thus, the MOLLE system remains indispensable for the installation of extra tools, which otherwise can't be put into a pouch: axes, folding saws, shovels, etc.
If you're interested how you can use MOLLE if you're not a tactical professional: We have a dedicated post about how to use MOLLE as a civilian.