What is MOLLE/PALS system?
It's time to get back to the basics. MOLLE is an acronym in our opinion most repeated on Perunika's website. Our search engine will find almost 100 products with MOLLE in their description! Regular users of military gear are already intimately familiar with it, but with our persistent penetration of the 'civilian' market, it remains a mystery to some. MOLLE/PALS is a ingenious solution with which the armies of the world have standardized their equipment to be interoperabile and interchangeable. It allows complete customization of your gear based on personal needs, purpose/specialization or current task. In everyday life, however, it saves a lot of problems and finds a solution to many conundrums. Military equipment is not just 'for military' for a long time now, and MOLLE has knowingly or unknowingly become our faithful companion everywhere.
All the MOLLE/PALS gear in our offer can be divided into these categories:
What is MOLLE or PALS?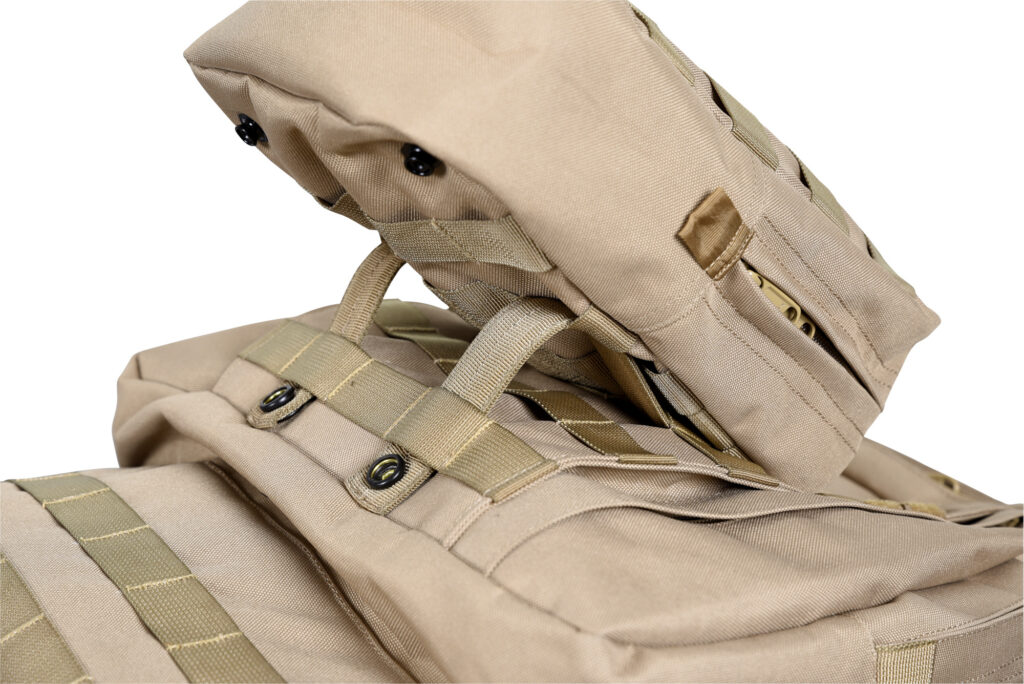 Most of us have knowingly met with MOLLE or PALS systems. Still, since military (or tactical) equipment is becoming more and more popular due to its visual appearance ('tacticool'), a lot of our customers are encountering MOLLE without actually fully understanding what it is. MOLLE system is becoming a fashion statement rather than important tool that will turn your life around if you aren't using it yet.
And what exactly is MOLLE or PALS? To be honest, most of us are not using the term correctly. Technically PALS is just the mounting system and MOLLE is the category of products using it, according to the classification of US armed forces. So when we say that a military backpack has a MOLLE system, the backpack actually has PALS system. PALS is the acronym for Pouch Attachment Ladder System. PALS has replaced its predecessor ALICE, who used a system of metal clips to attach equipment directly to belts or backpacks, and did not allow for complete interchangeability. It prevented the user from moving the pouches elsewhere than designated. PALS came out in the nineties as a direct response to this problem.
The PALS grid consists of horizontal rows of 1″ (2.5 cm) nylon webbing, spaced 1″ in apart, and reattached to the backing at 1.5″ (3.8 cm) intervals. Since the sizing of MOLLE system is always the same that ensures total interchangeability.
MOLLE (pronounced as the female name Molly) on the other hand is an acronym for Modular Lightweight Load-carrying Equipment. It is used to define the current generation of load-bearing equipment and backpacks. Anyway, most of us are using the term MOLLE as a mounting system (PALS) willingly or no.
What do we have to look out for?
For the MOLLE to actually work, two conditions must be met:
The mounting platform must be robust/durable enough
The mounting platform must be rigid
If the conditions are not fulfilled, the platform will not bear the weight of the mounted pouches. Today, the military standard has become the Cordura trademark in different densities (denier). It usually starts at 500D, and end at 1000D, although there are also higher, but rarely used ones. Cordura, which we are talking about here, is 100% nylon or polyamide. Both terms are in use, this is the same material, the nylon is essentially a type of polyamide. Today there are also many producers on the market that produce 'military equipment' from 100% polyester. With polyester, MOLLE is a visual add-on because it simply does not withstand such loads as Cordura/nylon. So, if you want to use MOLLE on your backpack, vest, bag, and elsewhere, then avoid polyester at all costs and choose Cordura instead. 500D is more than enough!
What about laser cut MOLLE?
The alternative to the classic MOLLE (nylon straps) is laser cut MOLLE. Instead of nylon straps, the holes in MOLLE sizing are laser-cut into nylon, Cordura or other material. In order to have the same functionality as with classic MOLLE, laser-cut openings must be additionally reinforced with stitches. Sometimes the holes are just slits rather than elliptically cut holes to gain the same result as with stitching. Where the material is very thin, Cordura can be reinforced with other synthetic materials (e.g. hypalon), creating a sandwich like compact and rigid surface. The same rule applies here as before: polyester is not for serious military equipment, better avoid it.
If we compare both systems we can summarize the pros and cons.
Pros of classic MOLLE:
Robust
Even with a heavy load, and over time, the straps should stay tense
Easier to clean, less dirt is caught in the middle
Can be stitched on later (not in all cases)
Makes it possible to use it practically on all materials
Cons of classic MOLLE:
Most manufacturers use solid colour nylon straps even on camouflaged gear because of the price
Heavier (each strap additionally brings to the total weight)
More work to make
Pros of laser cut MOLLE:
Low weight
More civilized look, the slits are less noticeable at a distance
Allows full/better camouflage
When the laser cuts the Cordura, it melts the edges, so the gear does not need to be stitched at the ends, making it thinner and lightweight
Cons of laser cut MOLLE:
More difficult to clean, more dirt is caught inside
The slits can become (too) big with time and use
The material is limited to the one that the laser can cut (nylon, polyester)
Can not be stitched later on, either you have it or don't
No matter what we can still say the differences in functionallity are minimal. Classic MOLLE is mostly the first choice because of the traditional 'tacticool' and military look and feel it gives. But as said above, for camouflage addicts like we are, it's a pain when you have a white backpack (Pencott Snowdrift) with highly visible coyote straps on it.
Stay with us! Next time we'll check how to use MOLLE and give you some useful tips for it. And if you're interested in how to use PALS as a civilian, we have a dedicated blog post for that, too.