IWA report – Part II: A-TACS and Kryptek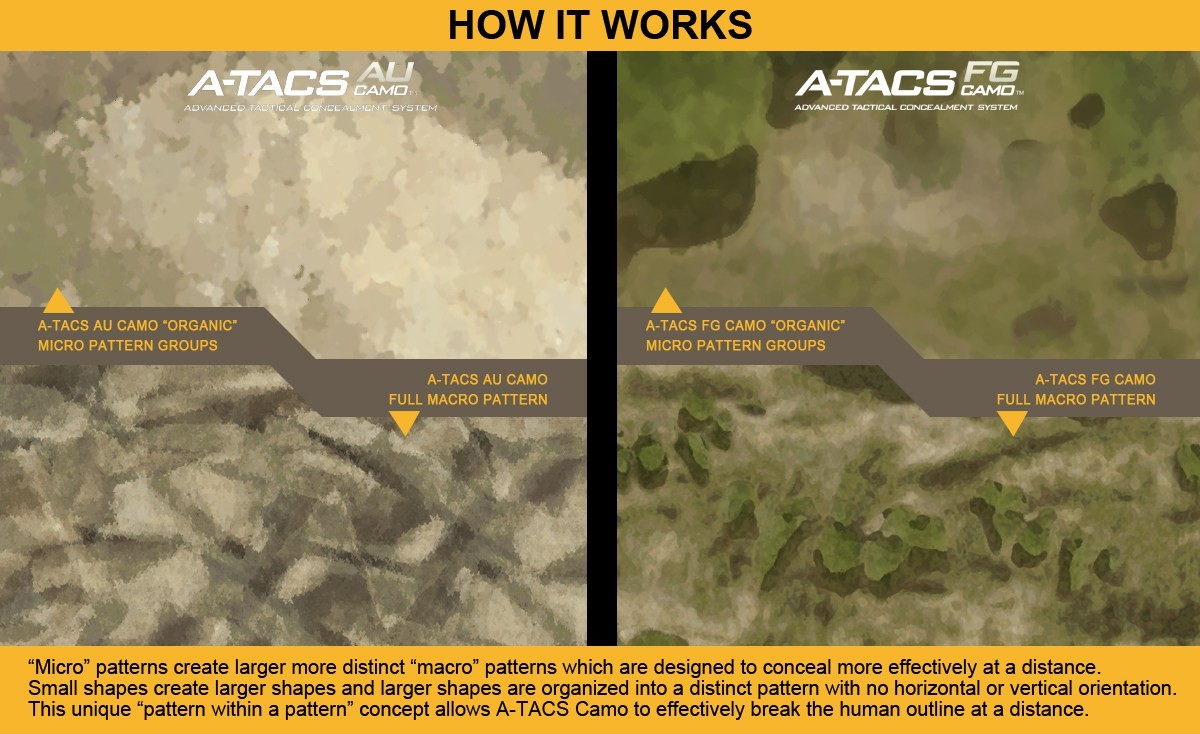 A-TACS
American camouflage giant A-TACS probably does not need introduction with our customers. Until now we have only flirted with their products and never kept them in our offer, as we would have to search for a new manufacturer or brand. Helikon-Tex's line of CPU uniforms in A-TACS has finally been exhausted, and therefore it's not in our ranks anymore. Fortunately we are lucky this year as Helikon-Tex again introduced A-TACS in its Cordura 500D products: firstly in Bandicoot and Possum waist bags and tactical equipment – multi-purpose and admin pouches, med kits, drop pouches and in the future on chest rigs as well. We do not know yet what will happen with A-TACS uniforms as they are withdrawn from the newest catalog and are being "replaced" with Polish camo Legion Forest, which is similar to A-TACS iX.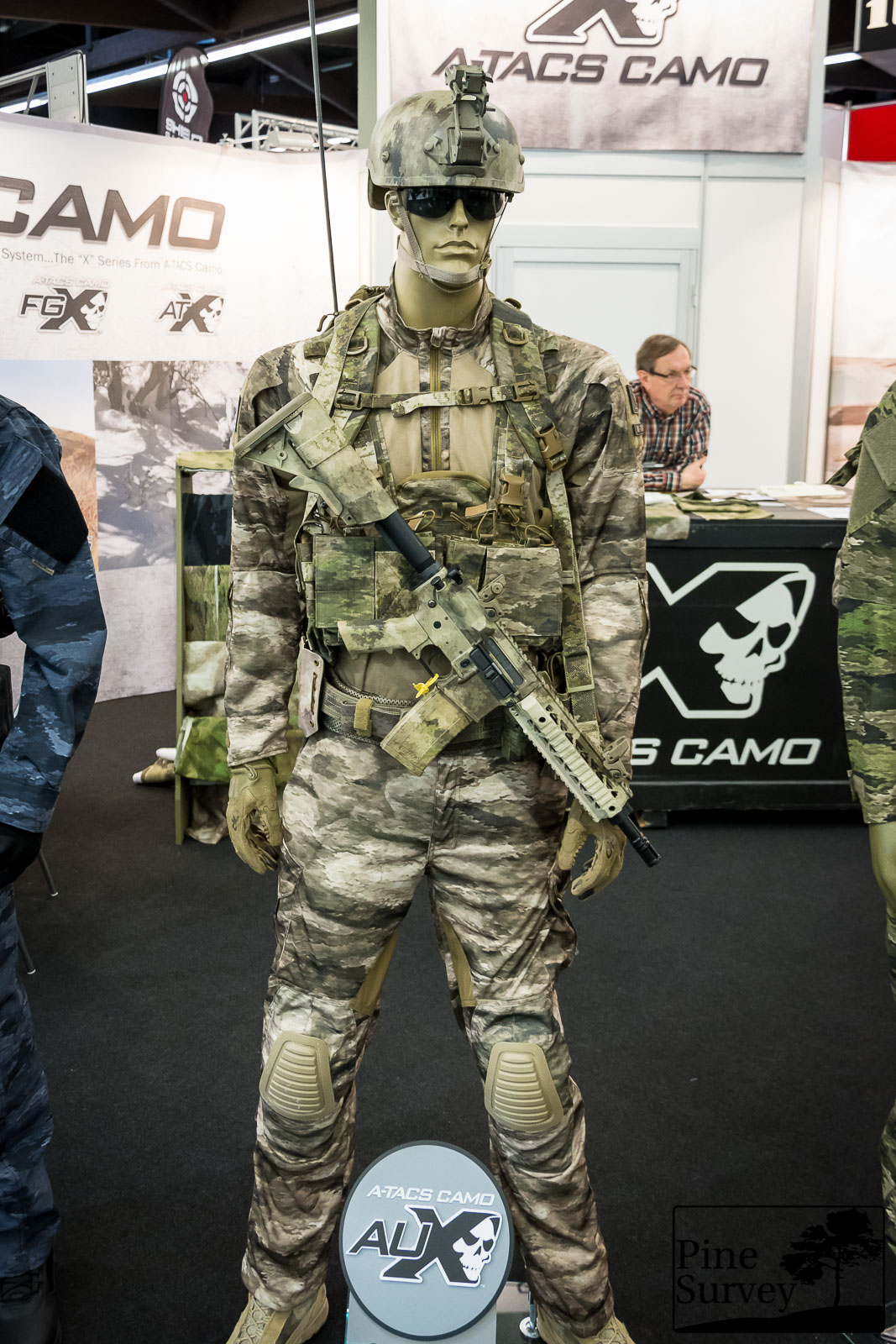 A-TACS is a member of classical patterns, where silhouette is broken with blurred transitions and selective choice of colors. Their patterns have a dirty, washed appearance but work excellently in selected areas. Their motto (and acronym of the company) is Total Solution Concealment. A-TACS patterns are designed to work effectively regardless if they are on uniforms, equipment, weapons, etc. – there is no need to adjust the size of the forms in the sample. A-TACS rejects digital geometric patterns as they have hard edges and pixilated shapes and do not replicate the environment correctly, especially through optics, and the use of 90 degree angles and limited use of natural color make detection easier, limiting the effectiveness of these patterns.
The woodland camouflage systems are on the other hand often overly simplistic, with limited color palette. A-TACS takes a hybrid approach: it replaces unnatural square pixels with organic ones and creates a palette of natural colors digitally sampled from real world elements. It uses small patterns to create larger more distinct shapes together in a distinct pattern with no horizontal or vertical orientation. This unique "pattern within a pattern" concept allows A-TACS to effectively break the human outline at great distances.
A-TACS has again erected its stand at Iwa Outdoor Classics where they focused primarily on the presentation of the new collection of patterns, so-called X-line. Their first attempt of universal pattern was iX, where three-dimensional effect is created and successfully breaks the silhouette even at short distances. A-TACS iX is basically a combination of the AU and FG; it combines the best of both worlds and makes it more universal. Shapes are more elongated, horizontal (tiger stripes).
Now the original patterns (AU FG and LE) will all receive their X upgrade in 2018. X-line will combine the advantages of A-TACS iX and specific color palette of previous patterns. The entire X-line was exclusively presented at A-TACS booth, while previous models and exceptionally iX found its place even among other manufacturers of military and tactical equipment. Still the main A-TACS attraction was undoubtedly the A-TACS iX sofa at the Polish manufacturer Wisport booth.
Kryptek
We would like to briefly mention the US Kryptek, which is better known in the US hunting circles rather than in the field of tactical and military equipment. Here Kryptek gained its recognition only when it was used by Travis Haley and was even temporarily introduced in Haley Strategic Partners collection. Like MultiCam the focus of the pattern was more "tacti-cool" effect rather than its actual effectiveness, especially with black (urban) Typhon pattern, blue Pontus etc.
Kryptek patterns are creating a three-dimensional effect and breaking the silhouette with distinctive shapes but less focusing on the "right" combination of colors. This enables combining their patterns for example with orange or even pink for female operators with the camouflage (to some extent) still performing well in hunting while increasing the safety of the hunter and meeting legal restrictions (see pattern Inferno). Another advantage is that using the same template (shapes) is an easy way to increase the number of finished products or patterns for a thousand and one use.
The future of the pattern in military/tactical gear is unpredictable. Kryptek still lacks manufacturers in this market segment. But at the same time the amount of equipment in Kryptek slowly increases. This year at IWA Kryptek has shown mainly its innovations in their finished products; hunting and tactical apparel. Relatively new is the Altitude pattern for above tree-line use and Raid pattern for the urban areas which will probably replaced Typhon. Black has long been popular with the police SWAT units and SF but as a "camouflage" it's very ineffective, and is therefore being slowly replaced with brown and gray patterns/colors.